News Updates
Health Checkup Camps
All News & Events Updates
Free Health Camp on 23-06-2016 - 24-06-2016 at Madhugeri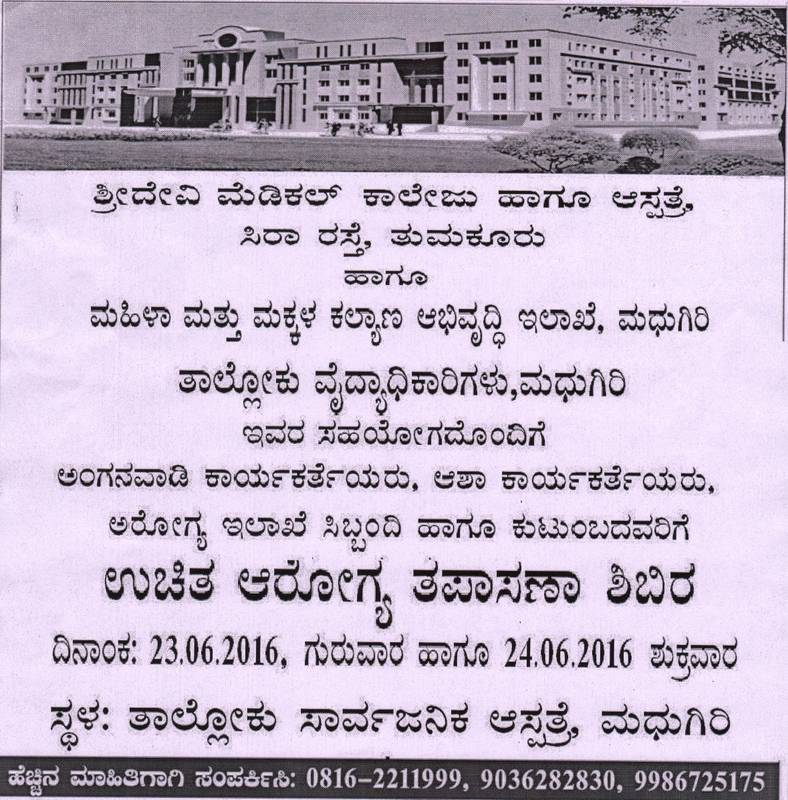 Free Eye Camp on 07-06-2016 at UHTC Area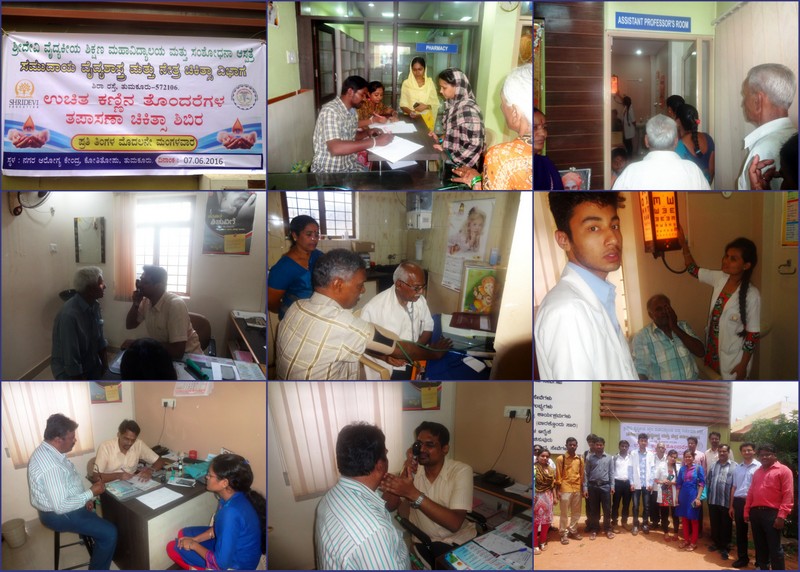 DSO - Meeting
SHRIDEVI INSTITUTE OF MEDICAL SCIENCES & RESEARCH HOSPITAL, TUMAKURU
DEPARTMENT of COMMUNITY MEDICINE
Meeting on Communicable Diseases Held on 01-June-2016 at District Hospital Auditorium,
Tumakuru under the chairmanship of CEO, ZP- Tumkuru.
Meeting was attended by the following COMMUNITY MEDICINE STAFF of SIMS and RH
1. Dr. Sunil Kumar (Professor & HOD )
2, Dr. Waseem Anjum (Assistant Professor)
Minutes of Meeting
 The meeting was chaired by CEO, DHO, DSO and DMO, Tumakuru.
 All the Medical Officers of PHC's and Taluka Health Officers attended the meeting.
 At the start DHO addressed the gathering and was very keen regarding the cleanliness of individual PHC's and informed PHC medical officers and THO's for maintenance of the same.
 District Surveillance Officer Dr. Purushotham addressed the gathering and informed regarding the activities to be done for prevention of communicable diseases at PHC level, taluk level and district level
 He gave the information regarding the present statistics of different communicable diseases in Tumkur district and told what are the measures to be taken for its prevention
 Rapid response team was formed for prevention of outbreak
 Tumkur Mahanagara Palike Engineer was informed regarding the areas which are the source of epidemic along with the maintenance of cleanliness of left out sites and drainages.
 Veterinary Doctors were also involved and informed regarding their Contribution.
 Minimum of 10 Hospitals from each Taluk should send the P and L forms to the DSO for reporting compulsorily.
 DSO informed regarding the IEC activities to be done at PHC level, Community level, Taluk level and District level.
 DSO also informed regarding the contribution of Education Department and their activities for prevention of communicable diseases.
Role of Shridevi Institute of Medical Sciences and Research Hospital:-
• Contribution of Community Medicine staff in Rapid Response Team during the time of Outbreak.
• Reporting of Communicable Diseases to DSO, Tumkuru.
• Involvement in IEC activities for involving medical, nursing and paramedical students.
Involvement in National Health Programme- NPSP
SHRIDEVI INSTITUTE OF MEDIAL SCIENCES & RESEARCH HOSPITAL, TUMAKURU.
DEPARTMENT of COMMUNITY MEDICINE
Involvement in National Health Programme- NPSP
Workshop on"tOPV to bOPV SWITCH" and "IPV Introduction in Karnataka" Held on 30-Mar-2016, DHO Office Tumakuru.
Minutes of Meeting
1. tOPV to bOPV SWITCH
 The SWITCH tOPV to bOPVis called the SWITCH and will be globally coordinated process. In India National SWITCH day will be on 25-Apr-2016, when bOPV will replace tOPV. All tOPV stocks will be completely withdrawn and destroyed as per the guidelines.
 Cold chain points / Primary Health Centres / Community Health Centres /Urban Health Centres will receive bOPV1 to 2 days before the SWITCH (22-Apr-2016). They will be given a vehicle to push-exchange tOPV with bOPV.
 District vaccines switch team consisting of notified health staff will be formed.
 NATIONAL SWITCH DAY 25-Apr-2016 1. Stop Use of tOPV 2. Remove tOPV from Cold chain 3. Send all tOPV for disposal 4. Begin use of bOPV
 VALIDATION Phase - 25-Apr-2016 to 9-May-2016
1. Completely dispose tOPV
2. Validate tOPV disposal
 NATIONAL VALIDATION DAY – 9-May-2016
1. Declare the country tOPV free
2. "IPV Introduction in Karnataka"
 IPV reduces risk of re-introduction of type 2 polio virus.
 IPV should be introduced in routine immunization around the time of tOPV to bOPV SWITCH. Two fractional doses of IPV produces high immunity base fot type 2 polio virus.
 Dosage and Route
1. Two doses – 6 and 14 weeks.
2. INTRADERMALroute in right upper arm.
3. Each dose of 0.1ML using BCG Syringe.
ROLE of Shridevi Institute of Medical Sciences and RH.
 Return all tOPV vials to stockists and Buy bOPV by 24-Apr-2016.
 Start usage of bOPV25-Apr-2016.
 Need of external monitors for validation phase two weeks after introduction of the programme.
Workshop was attended by the following COMMUNITY MEDICINE STAFF
Dr.Sunilkumar (Professor & HOD )
Dr.Vidya.B (Assistant Professor)
Dr.Amruth M (Assistant Professor)
Free Pap Smear Camp at Shridevi Institute of Medical Sciences & Research Hospital on 30-01-2016
Free Health Camp at Kondli on 08-01-2016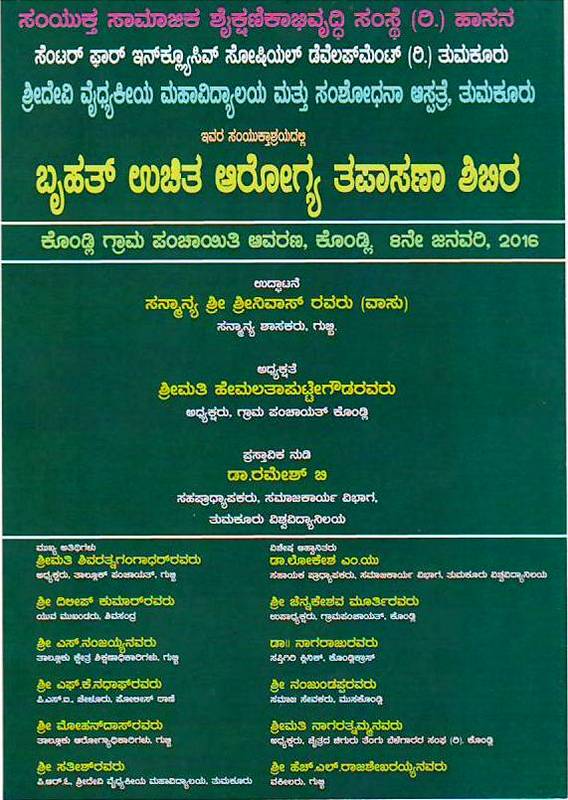 Free Eye Camp at Kodigehalli, Madhugeri Tq on 05-1-2016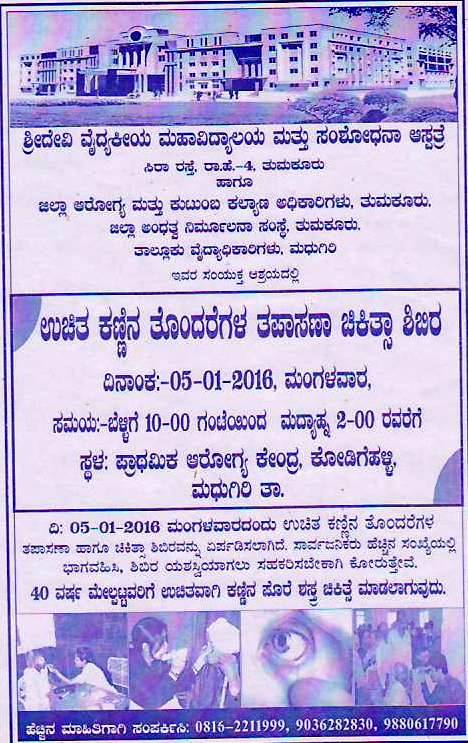 Page 3 of 8
This website was last updated on 21-07-2018
Content View Hits : 421680