Health Checkup Camps
Medical Hospital News Updates
HIV Awareness 2014
HIV Awareness 2014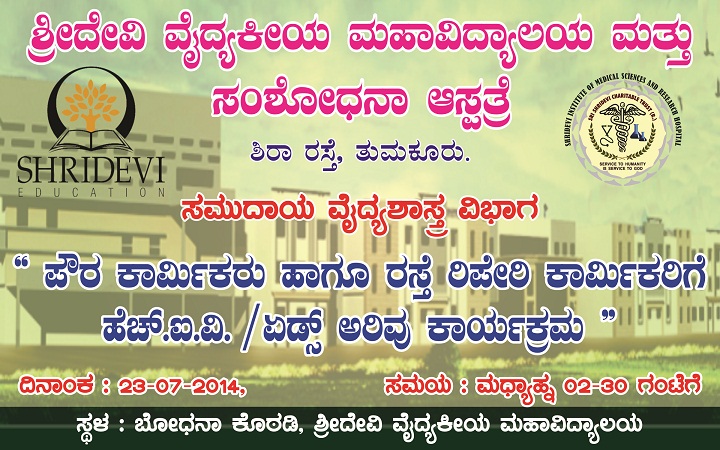 HIV / AIDS awareness programme for municipal labors and road construction workers was held on 23/07/2014 afternoon 02:00PM to 05:00PM. It was organized by department of Community Medicine, Shridevi Institute of Medical Sciences & Research Hospital, Tumkur.
Chief guest of the programme was Deputy Mayor Mrs. Dhanalakshmi Ravi, Tumkur City Corporation.
Dr. C. M. Gurumurthy, Dean, SIMS&RH; Dr. Raman. M. Hulinaykar, Medical Director, SIMS&RH; Mrs. Asha Prasannakumar, Deputy commissioner, Bharat Scouts & Guides, Mr. Ameen, President, Rotary Young Brigade & Dr. Sagorika Mullick, Prof & Head, Dept of Community Medicine, SIMS&RH were the guests of honor.
One minute condolence was observed for the death of 6 AIDS researchers in the Malaysian plane crash on 17-7-2014.
Introductory speech was given by Dr. Raman. M. Hulinaykar. The programme was inaugurated by the dignitaries on the dias by lighting the lamp. Main speakers of the programme were Dr. Amruth.M, Assistant Professor, Dept of community medicine, SIMS&RH and Dr. Shankar. D, Medical Officer, ART Center, Tumkur.
A Skit on AIDS was presented by final year nursing students of Shridevi Nursing College. The programme was concluded by vote of thanks by Dr. M.C.Prabhudeva, M.S.W, Dept of Community Medicine, SIMS&RH.
The programme was a huge success & all the participants got to learn about Causes, Symptoms, Diagnosis, Treatment & Prevention of HIV / AIDS.
This website was last updated on 23-09-2022, Friday
Content View Hits : 1433817