Laboratory Services
Clinical Laboratory Services
Health care system is no longer a simple process of examining the patient and giving him/her a prescription; over the years there has been a rapid expansion in the various branches of health care services, due to the rapid explosion of scientific medical knowledge. In this process the role of laboratory in helping the clinician make an accurate diagnosis has gained tremendous importance in bridging the gap between the patient's complaint and his treatment. Up gradation of knowledge is required to understand clinical laboratory sciences today, and clinical chemistry continuous to be one of the most rapidly advancing areas of laboratory medicine, with many new tests, methodologies and measuring system being introduced with each passing
To ensure this, departments are equipped with the state of art instruments and procedures have been developed and streamlined, to govern patient preparation, sample collection, sample identification, transport, preservation and analysis.
The laboratory services at SIMS & RH are fitted with state-of-the-art equipments and these different clinical laboratories are run by qualified medical professionals.
Description and type of Laboratory
The laboratory comes under the category of a large laboratory. As it is a laboratory performing tests relating to several laboratory disciplines, such as clinical biochemistry, clinical pathology, microbiology, serology, histopathology, hematology, immunology blood bank and transfusion services with a load higher than 2500 tests per day and using sophisticated instruments, such as automated analyzers, chemiluminescence's analyzers, ELIZA readers, 5 PART DIFF haematology analyzers automated urine analyzers, etc. the state of art blood bank with component facility.
Clinical Laboratory Wing
The first step towards a cure is diagnosis, the faster and more accurate the diagnosis, the easier and better the cure, specially so in all cases, and invariably the diagnosis or basis for diagnosis stems from the laboratory wing of the clinical laboratory, for we here in the biochemistry wing go the extra mile by being committed to ensuring accuracy and precision in specimen handling, laboratory clinical testing and making available the latest investigation in the field, so as to facilitate faster diagnosis.
The analysis is done on unicell dxc 990 and a synchron 5 pro automated analyzer and accesses-2 the chemiluminescence's analyzeretc, using reagents, calibrators, and controls of high international standards. The laboratory staff selected to perform the tests are well experienced to understand adequately each process, the in-house laboratory quality control program, ensures continues quality results, the data generated is interpreted using scientific knowledge and professional expertise. Thus giving a helping hand to clinicians to make the accurate diagnosis.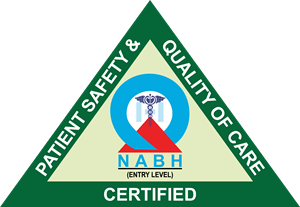 1st NABH Accrediated Hospital in Tumakuru